Current date/time is Fri Oct 22, 2021 9:03 am
Search found 1 match for DragonBallSuper
Breaking News!
The New dragon ball super movie being released in December 14th 2018 has now an official title! The same movie that is 100% Written/Directed by Akira Toriyama and published under the Toei Animation Company! the new movie is going to be fantastic for the fans of the most iconic dragon ball movie villian tp exist as he has the most known movies with the 4th one in 2017 making this Broly 5th appearance in the cinematic franchise since "God Broly"! and not his 5th Movie will surely show us just how Creative Akira is over just a character he designed! get ready for Broly in Dec 14,2018!
シリーズ最強の呼び声が高い
"伝説のサイヤ人"…ブロリー登場!

映画『#ドラゴンボール超 ブロリー』に正式タイトル決定&本ポスタービジュアル解禁!「最大の敵、サイヤ人。」のコピーの通り、それぞれ違う運命をたどってきた3人のサイヤ人がどのように出会うのか…。#ドラゴンボール超ブロリー pic.twitter.com/bdIyuX8oKk

— 「ドラゴンボール超」TV・映画公式 (@DB_super2015) July 9, 2018
Translation:
Twitter Translations wrote:The strongest call of the series "Legendary Saiyan"...

Broly!

#DragonBallSuper

official title decision to the movie ' Broly ' & this poster visual banner! "The greatest enemy, a Saiyan. how will these three Saiyans with different destinies meet?
The movie has Akira Toriyama himself writing, designing, and directing the film itself! something that never really happened in movies with Akira Toriyama and even Akira himself commented!
A Interview with Akira Toriyama about Broly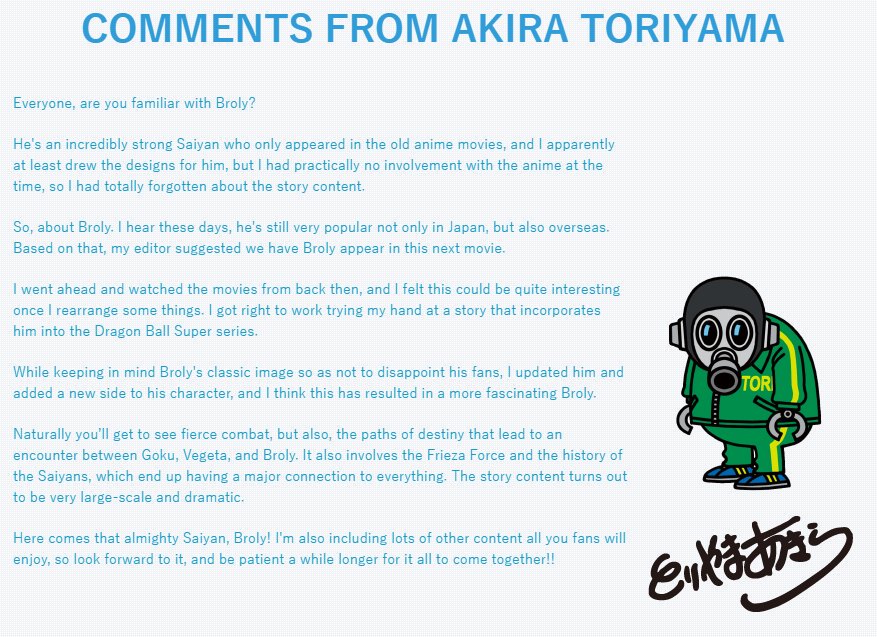 What does this mean? Broly is now Canon and is being entirely rebooted from design to his character! Welcome, The Legendary Super Saiyan Broly to the new continuity!
by Broly

on Mon Jul 09, 2018 5:48 pm
Search in: Hell Realm
Replies: 0
Views: 582